How do you determine the right bra size? You buy a bra from us not only because they are so beautiful, but also because a good bra is an indispensable support for your breasts. You feel so much sexier with a well-fitting bra that also shows off your outerwear better.


---
DIFFERENT SIZE SYSTEMS AT OUR BRANDS:
How do you choose a Love from Holland bra ? This brand does not use a standard size system. Our bras are flexible and are expressed in S-XL at Love from Holland .
It is important to know that a cup size is not fixed. A cup D in size 70 has a smaller cup than in size 80. Even if you have small breasts, it is not always the case that you need an A cup. Your cup size is always related to your back size: the under width.
MEASURE TO KNOW;
ASK SOMEONE FOR HELP WITH MEASURING
Determine your girth size by measuring just below your breasts. Make sure that the measuring tape feels tight and is positioned horizontally. Measure while letting your arms hang down at your sides. The result in centimeters is the size of the bra.
Your cup size: hang forward so that your breasts fall freely forward. Stretch the measuring tape around the fullest part of your breasts. Do not pull the measuring tape too tight, but firmly. Also make sure that the measuring tape runs horizontally, exactly over your back and breasts. The result is your chest size: the upper width.
THE CALCULATION
Subtract the number of centimeters of your lower width from the measured upper width. This result determines your cup size:
• Less than 3 cm = AA
• 10 – 12 cm: AA
• 12 – 14 cm: A
• 14 – 16 cm: W
• 16 – 18 cm: C
• 18 – 20 cm: D
• 20 – 22 cm: E (or DD)
• 22 – 24 cm: F
• 24 – 26 cm: G
• 26 – 28 cm: H
• 28 – 30 cm: J
Is one breast bigger than the other? Then go for the largest size and adjust the difference with the shoulder straps.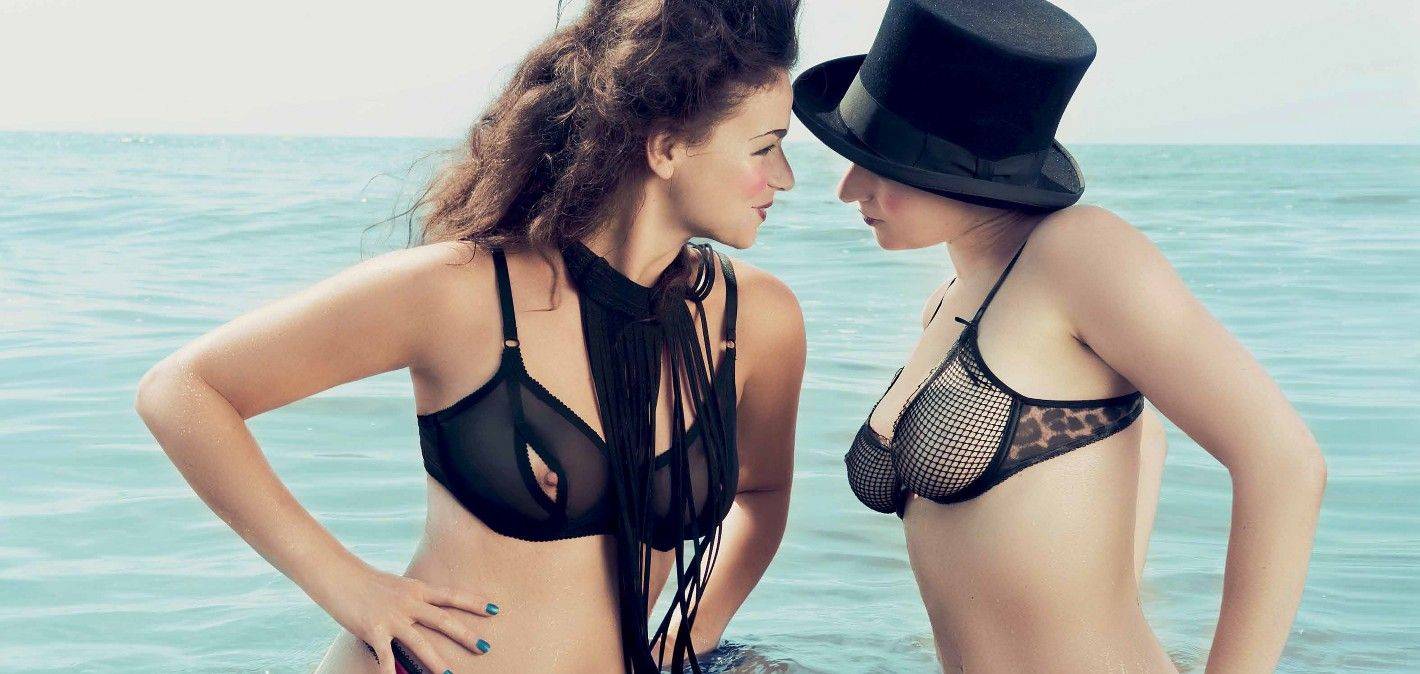 WHAT DO YOU LOOK FOR FOR THE RIGHT CHOICE OF YOUR BRA?
A well-fitting bra receives 90% support from the back and 10% from the shoulder straps. The back should be tight, and no more than two fingers should fit between your skin and the back.


BRA FIT
Fasten the bra at the widest position. The size is only too small if you really have to stretch the back to close. Pull the cup around your chest while still leaning forward. Put your hand in the cup and move your breasts slightly up and towards the center. You will probably have to adjust the shoulder straps a bit. These are tight but do not cut into the skin.
Fitting bras can be a challenge because every woman is different. To accommodate most of the female bra dimensions,
Love from Holland
offers a flexible sizing system (S, M, L, XL). Because you can adjust sholder
and
grith straps it is possible to find the bra that best fits your body. In this chart you can match your 'traditional size with our S, M, L, XL.

Note: for the 'Sein NU' bra you can go up to 95 F because the breasts do not need to fit into a cup.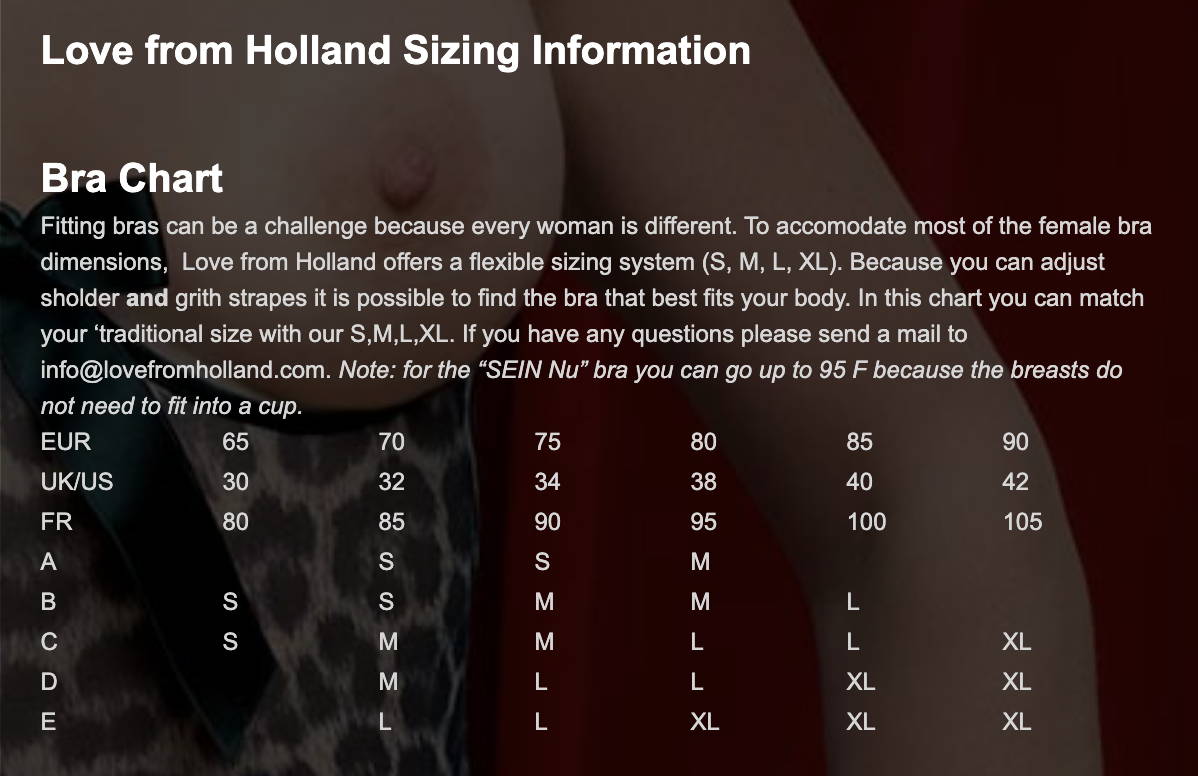 Love from Holland produces in small quantities in Europe (Belgium). If you want to order a style, color or size that is not in stock, please let us know. We may be able to make it available after all!
Send an email to: contact@mailfemale.com.